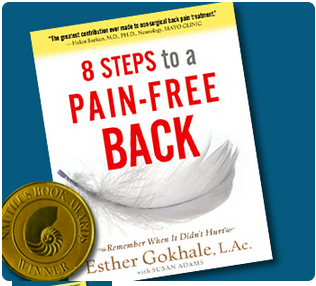 Before I became a patient of Chris Kresser's and about three years into my chronic back pain - after trying many, many things to heal my back short of surgery - a good friend who is an acupuncturist told me about Esther Gohale and the Gokhale Method for helping to relieve back pain. She let me know that free workshops are offered throughout the country and that one was coming up in Berkeley. I wasn't able to attend so my friend was sweet enough to buy me Esther's book "8 Steps to a Pain-Free Back".
I love that Esther has devoted her life to helping people with chronic back pain and admire the fact that although she offers paid extensive workshops and private consultations, she is so passionate about sharing her ideas that she also offers the free workshops and the book. She's reaching out to as many people as she can to get her message of healing out. This is what The Healing Farm and The Healing Farm | Retreats aims to do. To bring practical and affordable wellness solutions to the attention of many!
So I was thrilled when the Bay Area's local Gokhale Method Practitioner, Faye Alexandrakis agreed to give a free evening workshop at the Mayacamas Ranch Paleo Reset Retreat! I have her set to be our evening "entertainment" on Monday night (see the full week's schedule here). If you have chronic back issues, the combination of listening to Chris Kresser speak, launching your paleo reset AND attending the Gokhale Method Healthy Back Workshop will be a pretty great bang for your buck at this retreat. Between all of the above, I went from being in chronic back pain 80-100% of the time to 0-15% of the time. Seriously, it's a life-changer!
THF - Cultivating Practical Wellness!