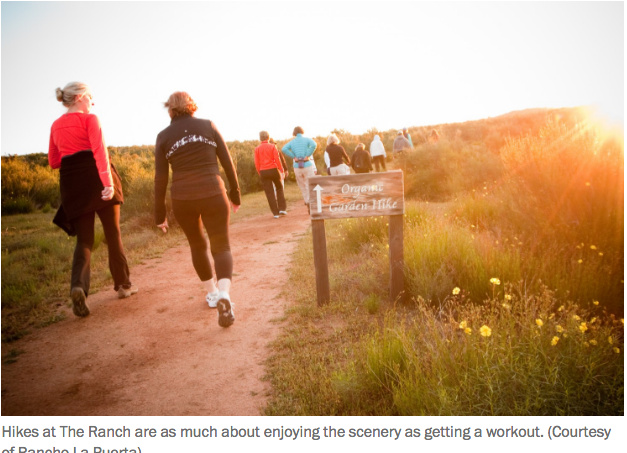 I always call it my "favorite place in the world" and I think Dina Mishev writing for the Washington Post hits the nail right on the head when she describes what's so special about Rancho La Puerta. It's precisely ALL of what she writes about that has inspired me to want to found The Healing Farm: Rancho La Puetra-esque with more of an affordable cost structure, a focus on functional healing.... and meat!
Funny. The first time I went to Rancho La Puerta was probably almost the same week and year as Dina! I was lucky enough to be called on to help them re-build their photo library for their marketing materials. I'm now proud to say many of my photos have become some of the iconic shots in the RLP marketing materials including a lovely photo of my friend Patti enjoying the view under Alex's oak, my friend Lyn on the cover of the spa brochure, a photo of a visiting yoga instructor doing dancer's pose and of course that outdoor shot at the lounge building with the wisteria which has ben one of the post cards you receive in your room every time you visit. See my photography site for more samples of my photos from RLP.
Whether I build The Healing Farm or not, RLP will always be one of my favorite places to go in the world and I'll always be honored to tell the newbies on the bus that this is my _________ time (currently eight) that I've been to "The Ranch" and that I have the honor of getting to know the guests so well having fun with them while photographing. They all are more than happy to sign model releases because everyone is on board with promoting our "favorite place in the world"!